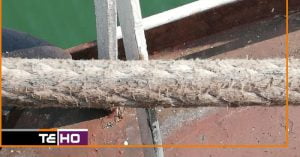 At TEHO Ropes, we understand the importance of maintaining mooring deck equipment to ensure safety and prolong the service life of mooring ropes onboard. Our expert Rigging team is regularly on vessels for installation, testing, inspection, and recertification of essential equipment.
Don't let poor maintenance be the root cause of rapidly deteriorating mooring ropes! Our skilled TEHO Ropes riggers have found cases where ropes are damaged due to abrasion from contact with deck lattices. This wear can lead to hazardous situations and even rope breakage.
Always clear the path of the mooring rope on deck and ensure proper inspection before use. Stay safe and maintain your equipment with TEHO Ropes!