Do You Have A Project We Can Help With?
PRODUCT SERVICES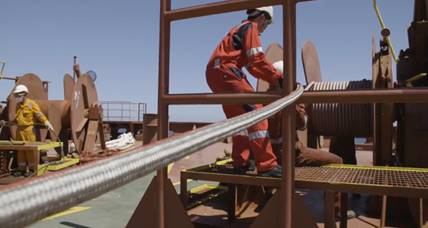 As a worldwide supplier of mooring equipment, TEHO Ropes Europe can rely on inhouse facilities and know-how to assist their dedicated customer base with actual challenges in their mooring or lifting operations.
TEHO Ropes Europe offers a range of services that enhances safety, awareness and knowledge onboard and onshore.
In case of questions or enquiries, please contact your local sales representative.
MEG4
In 2018, the Oil Companies International Marine Forum (OCIMF) introduced the Mooring Equipment Guidelines Edition 4 as a succcessor of Edition 3 (2008).
The Oil Companies International Marine Forum (OCIMF) is widely recognised as the voice of the oil industry providing expertise in the safe and environmentally responsible transport and handling of hydrocarbons in ships and terminals and setting standards for continuous improvement.
The OCIMF mission is to be the foremost authority on the safe and environmentally responsible operation of oil tankers, terminals and offshore support vessels, promoting continuous improvement in standards of design and operation. Its members consists of 110 companies worldwide.
The Mooring Equipment Guidelines (MEG) is an industry publication for the safe mooring of tankers and gas carriers at terminals. These guidelines provide an extensive guidance for safe mooring for ships and terminals. This publication also provides guidance on human centred design for safer mooring arrangements.
The key changes in the MEG 4 include:
Enhanced guidance for the purchasing, condition monitoring, and retirement of mooring lines and tails.
Enhanced guidance on documentation of mooring equipment.
New chapter on the Human Factors in Mooring Design.
New chapter on Jetty Design and Fittings.
New chapter on Ship Shore Interface.
New chapter on Alternative Technologies.
All of these recommendations have an extensive impact on your newbuild projects, purchasing, crewing, health & safety and technical management.
TEHO Ropes Europe, as part of the TEHO International Group, are fully updated about the impacts and constraints about purchasing, management and training in respect of the MEG4. TEHO Ropes Europe acknowledges the technical challenges on every aspect of your technical processes and are able to assist you when needed.
In case of questions or enquiries, please contact your local sales representative.
Training
The premature retirement of synthetic ropes and steel wire ropes before their service lifespan wastes your investment. More important is that an unexpected rope failure is a serious safety issue and can have unmitigated consequences of all sorts.
In the view of MEG4, TEHO Ropes Europe has a variation of training courses to help operators safeguard safety and their investments. The TEHO trainers can train your crew to inspect, maintain, repair or discard your mooring equipment on board or on shore.
Together with your technical department, TEHO Ropes Europe can assist you with your Line Management Plan, as part of the Mooring Safety Management Plan, and recommendation an optimisation program in which your mooring equipment are periodically inspected and tested on a schedule.
In case of questions or enquiries, please contact your local sales representative.
Test Bench
TEHO Ropes Europe is equipped with two testbenches with rated capacities of 120 and 300 metric tonnes. The Teho Ropes Europe testbenches are annually calibrated to provide the highest load cell accuracy and are operated by skilled engineers.
TEHO can conduct proof load, hold and destructive testing on synthetic ropes, steel wire ropes and a variety of load bearing equipment. In accordance to customer's requirement, we can provide assistance by 3rd party classification bodies such as Lloyd's Register, DNV.GL, NKK, ABS, Bureau Veritas.
The TEHO test benches are regularly booked for residual strength testing on mooring ropes. A service that is often booked in light of the new MEG 4 whereas condition management of a mooring line during its service life is of essential importance. A residual strength testing provides insight in a ropes' performance during and after its service.
Rigging Service
With the acquisition of rigging company LIHA B.V. in 2015, TEHO Ropes Europe expanded their service proposition to the market with dedicated rigging engineers and profound knowhow about rigging, testing, inspection and (re)certification of lifting appliances, mooring equipment and related tools.
Nowadays, TEHO Ropes Europe has renewed its service offering based on the experience of rigging predecessor LIHA B.V. TEHO Ropes Europe can offer the following on shore and on board services:
Gang way test (4.5T)
Crane load test
Visual inspection of mooring equipment / lifting equipment/ hardware
Testing, inspection of lifting equipment / hardware – Overhauling of lifting equipment
Pad eye testing
Winch Brake Testing
Installation of synthetic and steel wire rope
(Re)splicing of synthetic ropes
In case of questions or enquiries, please contact your local sales representative.
For questions, enquiries and / or remarks, we at TEHO Ropes Europe encourage you to contact us.