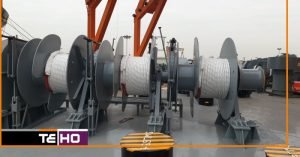 The TEHO Rigging teams are often to be found onboard a vessel for inspection services.
Providing our clients with a thorough inspection and a detailed statement is an aid to optimize their mooring equipment, extend the service lifetime and increase safety on board. This is part of the TEHO Ropes after sales service.
With the acquisition of rigging company LIHA B.V. in 2015, TEHO Ropes Europe expanded their service proposition to the market with dedicated rigging engineers and profound knowhow about rigging, testing, inspection and (re)certification of lifting appliances, mooring equipment and related tools.