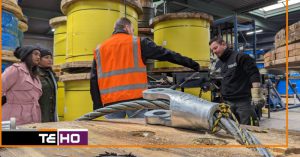 We have invited our colleagues from our TEHO Ropes India office over for training and team building in Rotterdam.
Seeing and feeling the products and understanding how products are fabricated was for them one of the most interesting parts of the training.
As a worldwide supplier of mooring equipment, TEHO Ropes Europe can rely on inhouse facilities and know-how to assist their dedicated customer base with actual challenges in their mooring or lifting operations.
TEHO Ropes Europe offers a range of services that enhances safety, awareness and knowledge onboard and onshore.
In case of questions or enquiries, please contact your local sales representative.