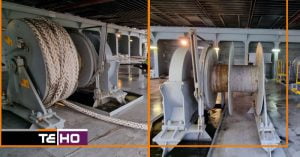 For one of our most valued customers, we recently booked several orders to replace their more traditional nylon Atlas-ropes by our newly developed mixed MAGNARO®-RRR nylon ropes to increase safety on board. We hereby assisted the customer with the inspection of the winches and other hardware and with the installation of the new ropes.
As a worldwide supplier of mooring equipment, TEHO Ropes Europe can rely on inhouse facilities and know-how to assist their dedicated customer base with actual challenges in their mooring or lifting operations.
TEHO Ropes Europe offers a range of services that enhances safety, awareness and knowledge onboard and onshore. In case of questions or enquiries, please contact your local sales representative.