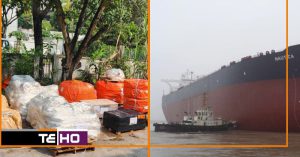 The FSO Safer, moored just nine kilometers off Yemen's Ras Isa peninsula since 1988, is a ticking time bomb. Holding a colossal 1 million barrels of oil, it's at risk of exploding or breaking apart due to years of decay amidst conflict in Yemen. Such a catastrophe would have disastrous effects on the region and beyond.
In response, the United Nations Development Programme (UNDP) has launched an urgent mission to transfer the oil to a safer vessel, the VLCC Nautica.
We're proud to announce that TEHO Ropes has been chosen to provide the crucial mooring equipment for the Nautica. Our role in this operation indirectly contributes to the prevention of a potentially catastrophic oil spill in the Red Sea. Together, we're working towards a safer maritime future!